World class manufacturer of Propellers and Shaft Systems Michigan Marine Propulsion (MMP), have announced the appointment of GMA as their Exclusive European Sales Representatives for their range of "Michigan Wheel" Outboard Sterndrive (OBSD) Propellers.
Kate Munro, Marketing Coordinator at MMP said "We have been exploring ways to expand our European distribution network for our growing OBSD series, and are confident GMA will be an invaluable asset to furtherance our strategies. This is an exciting partnership and a yet another step forward for the development of MMP in Europe"
Martin Harding, Managing Director of GMA said "We are delighted to have been appointed as sales representatives for Michigan Wheel's outboard and sterndrive propellers, we see huge opportunities to expand sales of their existing product range and to work with them on the development of new products specifically suited to the needs of the European market"
MMP are part of the USA Head Quartered Michigan Wheel Marine Group who include the Ballistic, Apollo, Vortex and Michigan Match brands in their OBSD offerings.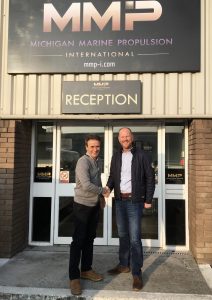 Michigan Marine Propulsion Managing Director Terry Hughes with GMA Managing Director Martin Harding.